by: Xeni Jardin

at 3:56 pm Thu, Oct 3, 2013
She has been identified "
pending confirmation
" by various law enforcement agencies as Miriam Carey, 34, a dental hygienist based in Stamford, Connecticut, who previously lived in Brooklyn, New York.
Miriam Carey, 34, of 114 Woodside Green, drove her black Infiniti coupe onto a driveway leading to the White House, and over a set of lowered barricades. When Carey couldn't get through a second barrier, she spun the car in the opposite direction, flipping a Secret Service officer over the hood of the car as she sped away, said B.J. Campbell, a tourist from Portland, Ore.
She is said
to have
had a history
of
mental illness
and traumatic
brain injury
. NBC News
reports that she did not
have a gun, or any other weapon in her
vehicle
. A law enforcement source is quoted as saying she "was using her car as a weapon."
She did not carry identification. News organizations are pointing to
this Facebook profile
for a "Miriam Carey" as possibly belonging to the deceased suspect.
"This appears to be an isolated singular matter with no nexus to terrorism," said Capitol Police Chief Kim Dine said at an evening news conference, while police and FBI agents searched the building where the woman is understood to have lived in Stamford.
The
NY Post reports that
the woman identified as the suspect "formerly lived in Brooklyn, was licensed to practice in New York and Connecticut and had a permit to work as a hygienist in Connecticut prisons."
Washington Post reporters
were among the first to speak with
people who knew Carey. None say they are aware of past behavior that suggests she would attempt to harm anyone, nor are they aware of any connection to Washington, DC or a political motivation.
Dr. Brian L. Evans, a periodontist in Hamden, Conn., for whom Ms. Carey had worked until about a year ago, said that he believed that she had suffered a significant head injury sometime during the year she was employed by him. He described Ms. Carey as having "a bit of a temper," but "nothing unusual, nothing that would ever lead us to think she would ever do anything like this."
The child in her black Infiniti, identified as likely being her one-year-old daughter,
was retrieved uninjured
.
A Capitol police officer and Secret Service division officer were injured, but expected to survive.
"Close, lock and stay away from external doors and windows. Take annunciators,
emergency supply
kits and escape hoods; and move to your office's assigned shelter in place location or the innermost part of the office away from external doors or windows," Congressional staffers were told by Capitol Police in an email.
No word yet on what "annunciators" refers to, in this context.
Many observers were quick to point out that the Capitol Police officers responding to the incident were not furloughed by the government shutdown (they're essential employees), but they are not currently being paid, along with the rest of non-furloughed government staff.
Washington DC, and the Capitol in particular, are at the center of an intense political battle that has led to an effective shutdown of much of the federal government's activities.
Below,
Kate Nocera
of Buzzfeed tweeted this photo, with: "Literally was dragged in by cop as he heard shots fired come over the radio."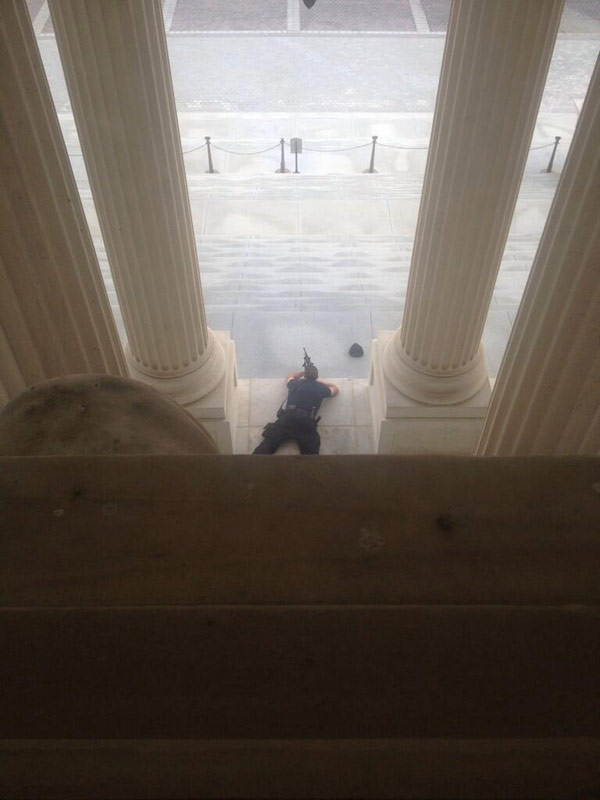 Boing Boing editor/partner and tech culture journalist
Xeni Jardin
hosts and produces Boing Boing's in-flight TV channel on
Virgin America
airlines (#10 on the dial), and writes about living with breast cancer. Diagnosed in 2011.
@xeni
on Twitter. email:
xeni@boingboing.net
.