According to this breaking story from MEDIAite, NBC Nightly news announced on their Wednesday night program that the mandate for Obamacare will be delayed for up to 6 weeks due to the ongoing problem with the healthcare website. This news was given to NBC by the White House according to this news report and tweet below. Even some Democrats are now trashing Obamacare and had been calling for a delay in the individual mandate as shared in the video below.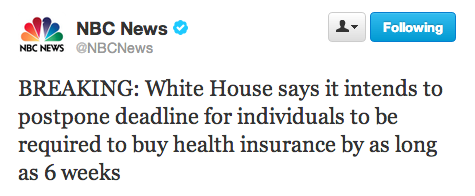 Brian Williams opened NBC Nightly News Wednesday evening with the breaking news that the Obama Administration is planning to move the deadline for individuals to sign up for health care as part of the Affordable Care Act up to six weeks due to ongoing problems with the HealthCare.gov website.
NBC News reporter Tom Costello delivered the details to Williams. "The White House tells NBC News it plans to move the deadline for individuals to be required to buy health insurance by as much as six weeks," Costello said. "As the law stands now, to avoid a tax penalty the uninsured need to start the process by February 15th. With this change the administration is trying to allow people to start the enrollment process by March 31st to avoid any financial penalty."
Costello added that the work to fix the website problems is a "top priority" for the White House. The news comes one day before congressional hearings into what went wrong with the website are set to begin.